✧𝕎𝕖𝕝𝕔𝕠𝕞𝕖 𝕥𝕠 𝕥𝕙𝕖 𝔻𝕚𝕞𝕖𝕟𝕤𝕚𝕠𝕟 𝕠𝕗 𝕄𝕒𝕘𝕚c✧ 
╭•⊰✿ The Celebration of LoVe ✿⊱•╮ 
 ✧
࿇SAMADHI VIBRATION࿇ 
࿇OneSpirit࿇OneLove࿇
𝔼𝕝𝕖𝕔𝕥𝕣𝕠𝕟𝕚𝕔 𝕄𝕒𝕟𝕥𝕣𝕒 𝕄𝕦𝕤𝕚𝕔  
ℍ𝕖𝕒𝕝𝕚𝕟𝕘 & 𝕆𝕣𝕘𝕒𝕟𝕚𝕔 𝕊𝕠𝕦𝕟𝕕𝕤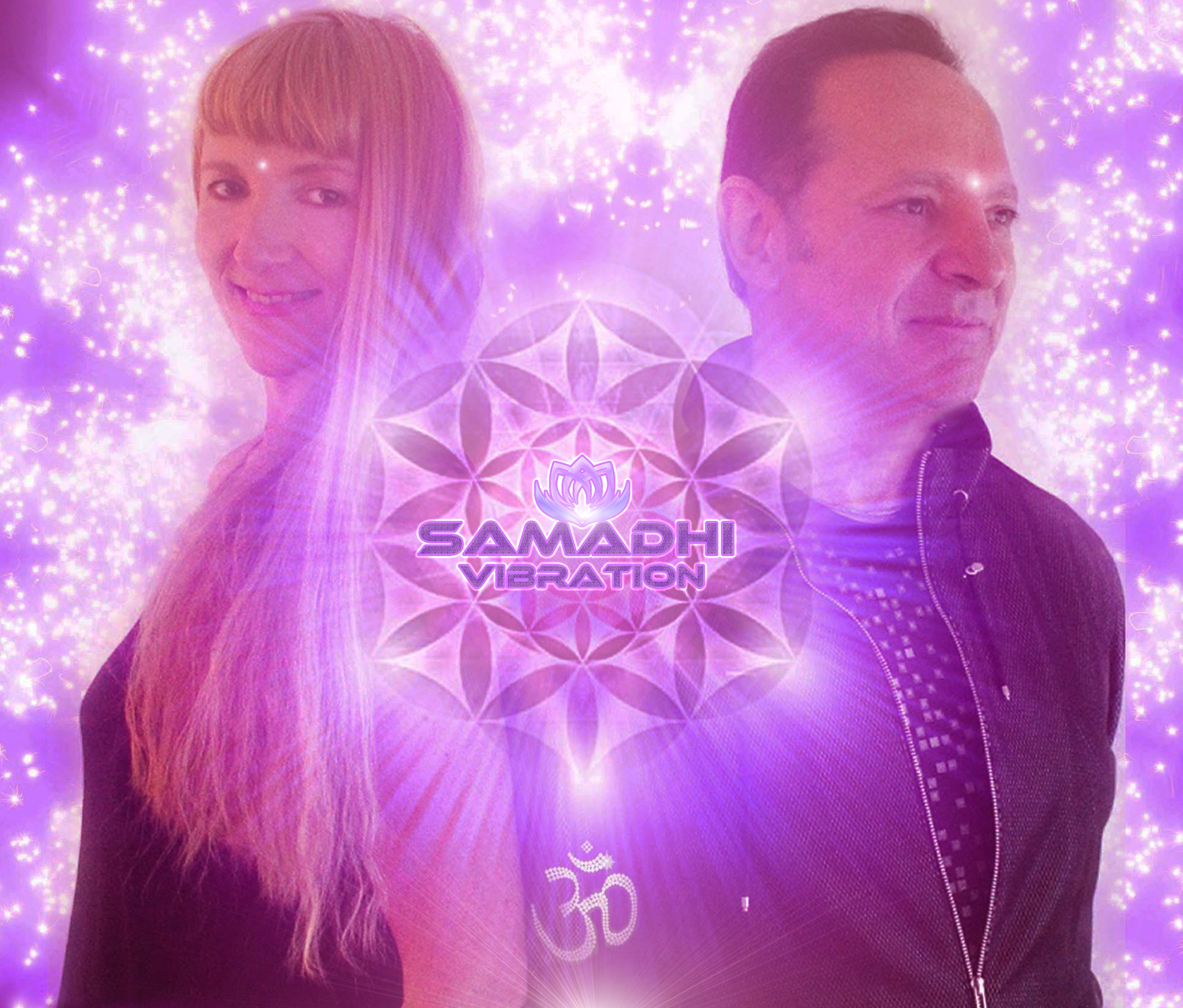 ॐ༄ Samadhi Vibration covers the diverse genders of Electronic Music, Techno, and Chill Out, fusing it creatively with Yoga Mantras in an original, powerful and unique combination. 
The duo is made up of Nori Quinzi (singer, producer, composer, yoga and belly dance teacher) and Daniel Saban (producer, programmer, DJ and sound engenieer). 
With 4 LP albums and several released singles, they produce electronic music fused with mantras, organic sounds and healing frequencies. 
Samadhi Vibration perform Electronic Mantra Music, Kirtan, Medicine Music Singing Circles & Mantras, and facilitates Ecstatic Dance and Natural Flow Dance sessions with live music, in genres such as Tech House, Tribal and Organic Techno, which characterize their DJ Sets especially created for these experiences. 
Samadhi Vibration travel around the world performing in several shows and holistic festivals, celebrating Life, Love and Unity. 
  ——༻༺—— 
"LOVE IS THE ANWER, LOVE IS THE WAY"
——༻༺—— 


ॐ༄ Samadhi Vibration transita los géneros de Música Electrónica, Tech House y Chill Out, fusionándolos creativamente con mantras, sonidos organicos y frecuencias sanadoras, en una original y poderosa fusion. 
Samadhi Vibration produce musica codificada para favorecer procesos evolutivos, 
de sanacion y de expansion. Cada mantra, cada frecuencia sanadora, cada sonido organico, cada ritmo en cada cancion, es canalizado para potenciar estados de presencia, celebracion, alegria, 
gratitud, meditacion en movimiento, apertura del corazon y encuentro de almas afines, tribu de luz. 
El dúo está formado por Nori Quinzi (cantante, productora, compositora, profesora de yoga y belly dance) y Daniel Saban (productor, programador, DJ e ingeniero). 
Con 4 Albumes LP y numerosos Singles lanzados, de música electrónica fusionada con yoga mantras, sonidos orgánicos, lenguaje de luz y frecuencias sanadoras, Samadhi Vibration realiza recitales de 
Electronic Mantra Music, Circulos de Canto Medicina y Mantras. 
Facilitan sesiones de Ecstatic Dance y Natural Flow Dance con música en vivo, en géneros como Tech House, Tribal, Sound Healing, Mantra y Organic Techno, que caracterizan sus Sets especialmente creados para estas experiencias de expansion. 

Promoviendo y fortaleciendo la conexion de cada ser con su esencia divina, Samadhi Vibration viaja por el mundo, 
compartiendo su musica en numerosos encuentros de yoga, musica, danza consciente, 
crecimiento espiritual y festivales holisticos, celebrando su mensaje universal de armonia
 con  la naturaleza, paz, gratitud, alegria, unidad y amor. 
——༻༺—— 
"EL AMOR ES EL CAMINO Y EL CAMINO DELANTE NUESTRO ESTA" 
——༻༺—— 
ॐॐॐ